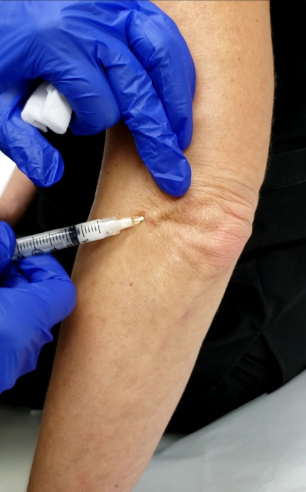 Elbows and knees are often forgotten and neglected. With aging, loss of collagen and thinning of the skin causes wrinkling. Moisturizers and exfoliation can help improve the feel of the skin in these areas but we're fortunate to have treatments available to improve the appearance of elbows and knees by plumping and tightening.
Our Toronto patients often appreciate biostimulatory injections to replenish lost volume, as well as laser and radio frequency treatments to tighten and firm the skin.
Combination treatments give the best results for youthful-looking elbows and knees. The following are some recommendations.
Keep Your Skin Nourished and Hydrated
Do you tend to skip your elbows and knees when applying skin care products? Make a habit of moisturizing each day right after your shower. Use a rich cream containing lactic acid or urea to shed dead skin cells and retain moisture in your skin. Afterwards, apply products that contain potent anti-aging ingredients such as retinol and peptides to help rebuild collagen.
Just like your face, the skin on your elbows and knees also needs exfoliation. Use AHAs such as glycolic acid or a gentle scrub weekly to polish away rough, dry skin.
Your muscle and bone mass also affect the appearance of your skin. In fact, by building muscle through strength training, the skin on your arms, elbows, thighs and knees will look tighter.
Fractional laser resurfacing uses tiny beams of energy that stimulate the production of collagen and thicken the skin.
Try Radio Frequency Skin Tightening
Radio frequency delivers heat deeply into the skin to tighten the existing collagen and stimulate the production of new collagen. The effect is tightening and smoothing of the skin.
Treat with Biostimulatory Filler Injections
Biostimulatory injections with calcium-based microspheres or poly-L-lactic acid work by stimulating the production of your body's own collagen to thicken and smooth the skin.
Ready to try out fractional laser resurfacing, radio frequency skin tightening or biostimulatory fillers from our Toronto office to tighten and restore volume in your skin? Explore different skin rejuvenation options from Gidon Aesthetics & MediSpa. Call 416-483-4541 or fill out a contact form to set up a consultation with us.